Meet our Team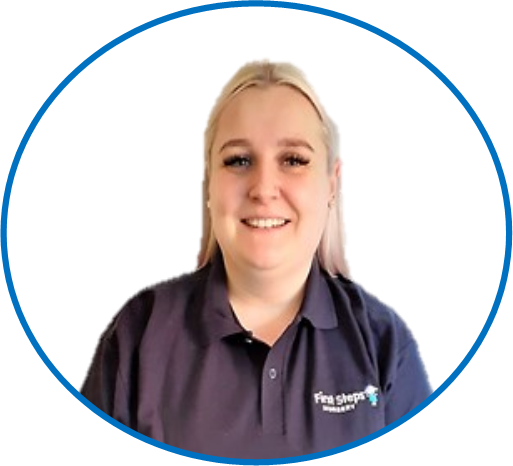 Ashleigh
Nursery Manager
I joined First Steps in 2022. I enjoy my job immensely and no two days are the same; I look forward to seeing the children engaged and motivated in their daily activities. I feel proud to be part of their learning journey and rewarded by seeing them achieve their full potential.
Nursery Manager
The Nursery Manager is responsible for maintaining the high standards in our nursery and ensuring it runs efficiently and smoothly. The Nursery Manager manages the childcare nursery team of Room Leaders, Nursery Practitioners, Apprentices and Kitchen staff.
Deputy Manager
The Deputy Manager works together with the Nursery Manager and Room Leaders to manage the childcare team and ensures that EYFS is used efficiently and that policies and procedures are followed.
Key Person
Each child, in our care, has their own Key Person. Your child's key person will build a relationship with yourself and your child, they will meet your child's individual needs, respond sensitively to your child's feelings and acts as a point of contact for you. Your key person will then feedback information to you on your child's day and progression throughout their time in the nursery.
Room Leader
Room leaders make up an essential part in the running of the day to day nursery. They are energetic and passionate and responsible for providing the highest care to the children in the nursery. They mentor the staff in their rooms and are a point of contact for parents and children.
Nursery Practitioner
Nursery Practitioners are level 3 qualified and assist the room leader in charge of each room in the day to day running of the nursery helping to provide a stimulating, fun and safe environment for the children and they play a key role in children's care and progress.
Nursery Assistant
Nursery Assistants are level 2 qualified in childcare who work alongside the practitioners and room leaders to provide stimulating play experiences which meet their individual needs of children.
Apprenticeships
Apprenticeships take place within the nursery and are designed for younger people who wish to train and perform on the job. They are mentored by practitioner's and room leaders whilst they are training and are able to obtain on hand experience within the nursery to start their career in childcare.
Nursery Chef
The nursery Chef is responsible for preparing and cooking our delicious and nutritious menus onsite in the nursery kitchen. We know how important it is for under 5's in our care to receive a varied and nutritiously balanced diet.